REGULARLY ENJOY ATTRACTIVE DISCOUNTS
Several times a year, Berolina offers attractive discounts where you can secure great price benefits. Don't miss out on any of these offers: check our website regularly – we announce al our discount offers in good time. You can access the discounts very simply using your customer number.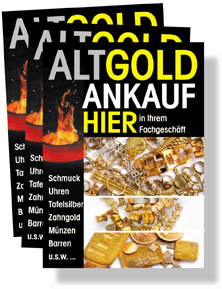 OLD GOLD PURCHASING OFFER
We have prepared eye-catching A1 posters in doorstop format and A4 flyers as well as a promotional CD for our customers. Simply send us an email to request this free promotional material designed for our customers.
We will send you a precious metal waste container for you to send your precious metal waste in, and we also have safe-bags available on request.
Bertolina wishes you every success in advertising your old gold!